Application Development
The Application Development Team in EIT is behind many of the Engineering school's web-based initiatives. They include the Clark school websites, news/calendar and faculty engines, custom courses modules, MyDesign applications, and many others based on the school's needs. The team's expertise allows them to provide a range of services related to the development and maintenance of web-based applications and websites. These include website design and development, web application development, server and network management, database management, and security management. Overall, the Application Development team aims to help the school improve its online presence and achieve its digital goals.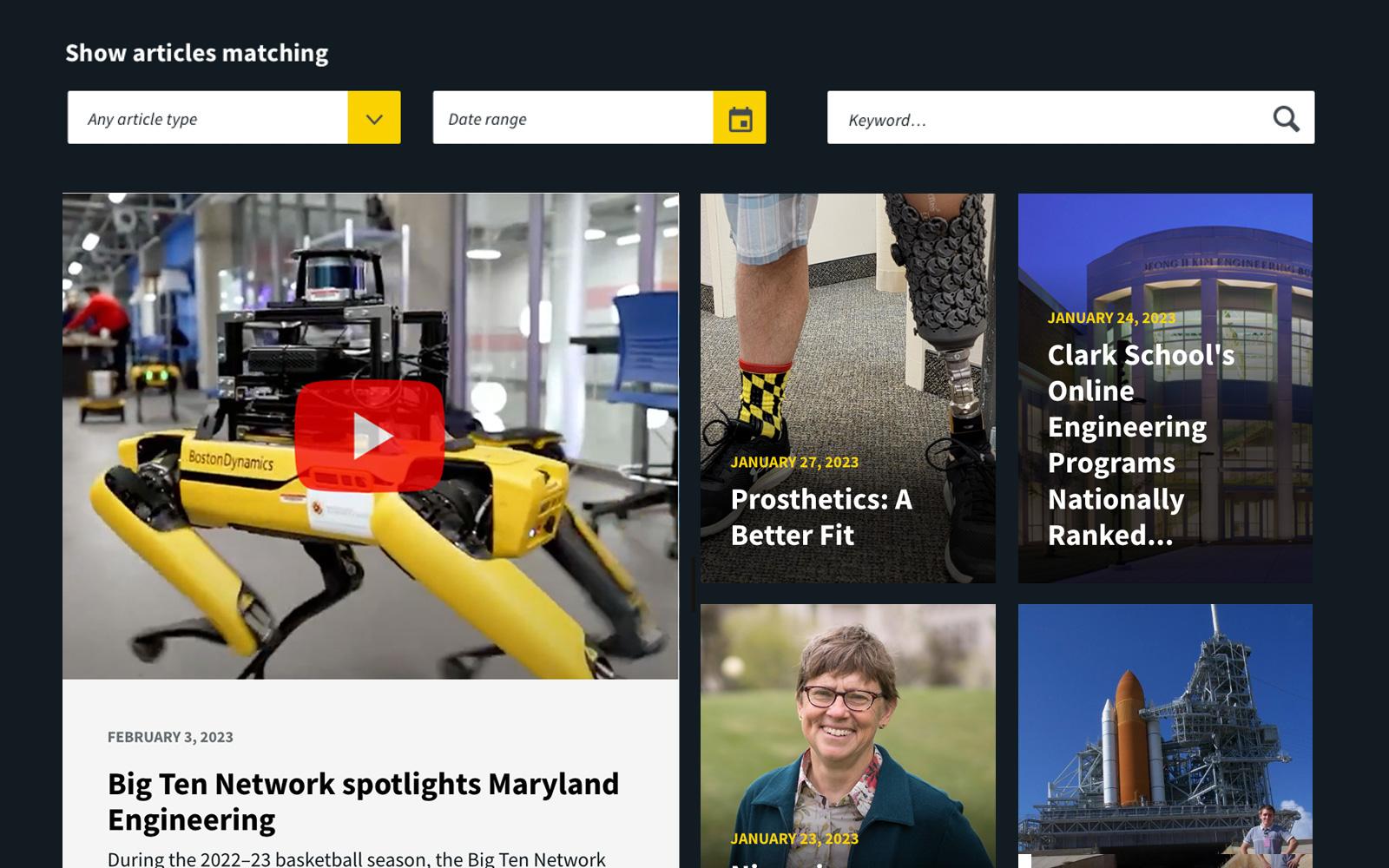 Contact Info
2125 J.M. Patterson Building
University of Maryland
College Park, MD 20742
Phone: 301-405-4907 | x5-4907 on-campus
Fax: 301-314-9639
Web Questions & Support: eng-webmaster@umd.edu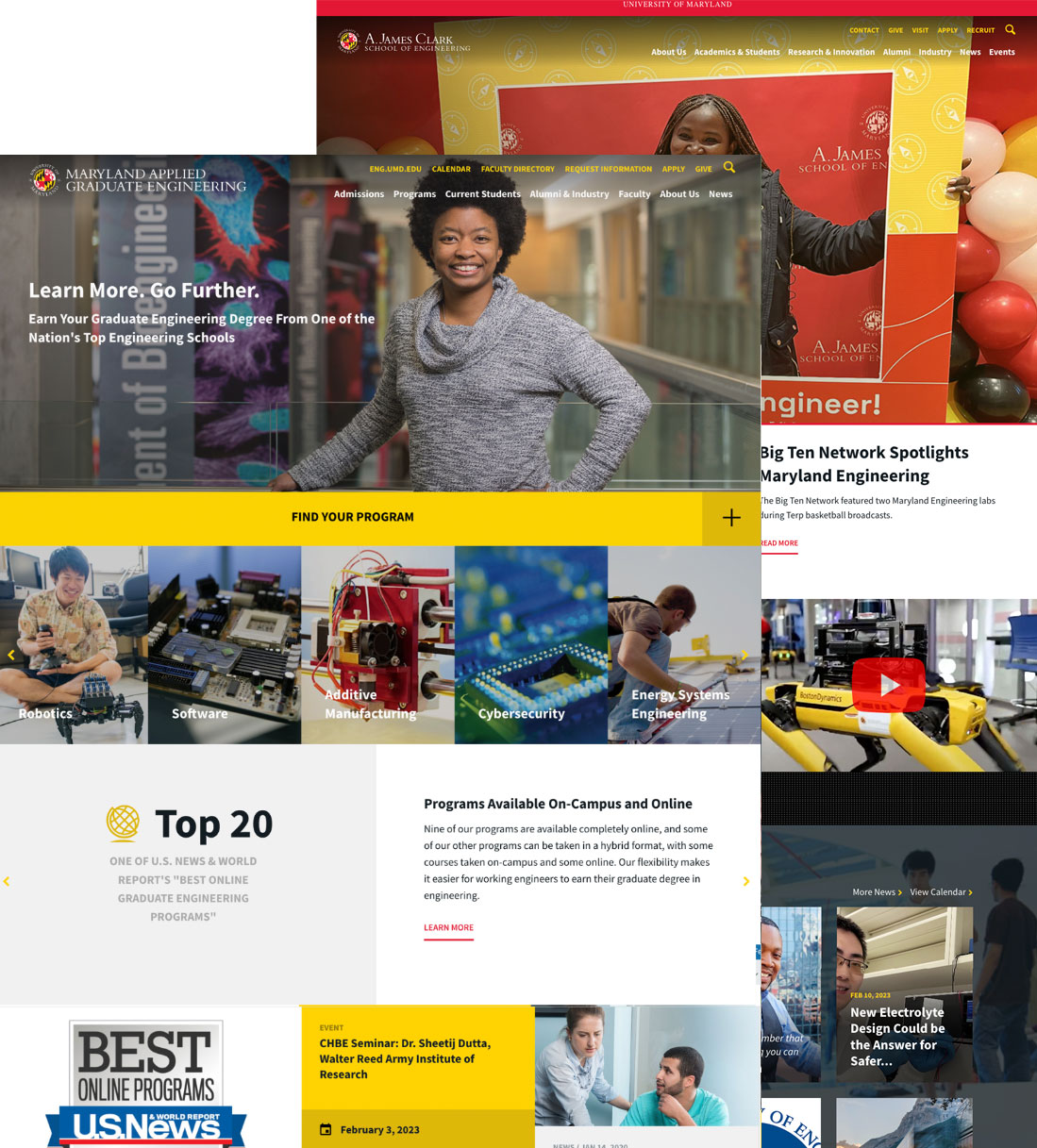 The Application Development team manages and maintains the Engineering school's 100+ websites hosted on Drupal and other platforms.  We have created a Clark School framework that provides the tools, components, functionality, and themes. The templates are used for the main Engineering site, departments, as well as other institutes and centers to build a coherent and strong Maryland Engineering brand.
Have a project that needs a web presence? The team typically work closely with the clients to ensure the website or applications meet their needs and requirements. They conduct kickoff meeting, trainings and regular check-ins to walk content managers through the process of constructing and maintaining the content pages.
We charge a fee for web services and can provide an estimate based on the complexity and scope of the project. 
Clark School News/Calendar, Faculty Engine
The News and Calendar Engines have served the Engineering school over the years as one centralized location to create and share news articles and events calendar across all departments and units. By aggregating stories, announcements, and events from various sources, the news and calendar engines help all relevant news easily accessible to students, faculty and staff and the community. Additionally, the news/calendar engines help streamline the publishing process, allowing for more efficient creation and distribution of news content. 
The Clark School Faculty Engine helps generate faculty directory and individual faculty profiles pages in a single location. Data from the site can be referenced on the Engineering's many websites. Each faculty as well as designated departmental staff can update his/her own profile. 
Clark School Branded Wordpress Option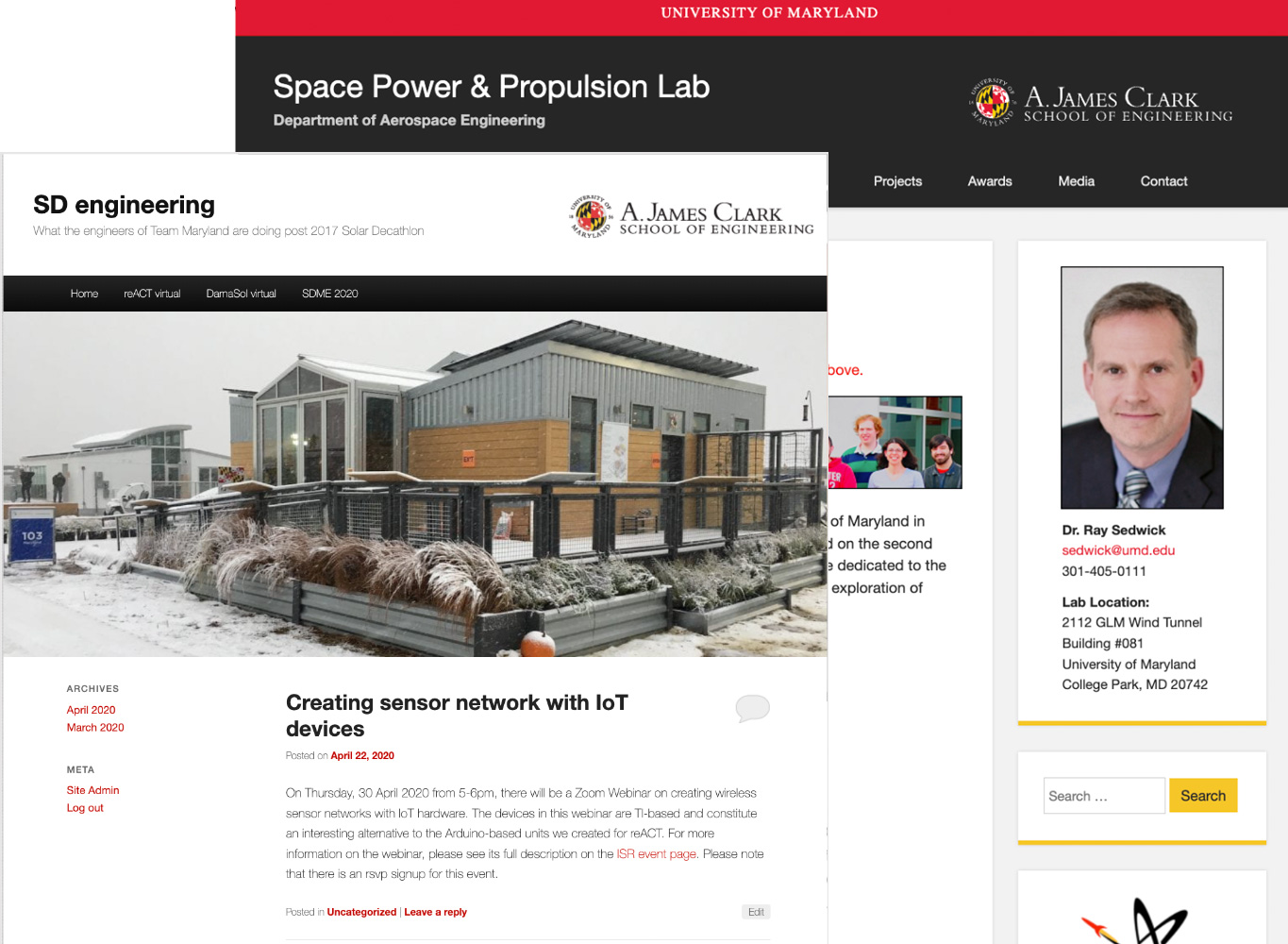 Wordpress is the most popular content management system in the market. The UMD campus provides an easy to use web hosting platform on WordPress to help faculty, research groups and student organizations put together an informational website quickly. EIT has designed the following theme templates with the UMD banner, Clark school logo and overall colors to help generate a consistent look and feel. You can request a site here: http://blog.umd.edu/.*
To activate one of the Clark School Wordpress themes, please login to your site and go to "Dashboard"→ "Appearance" and search for "Clark" for these Clark themes to activate. 
Custom URLs (e.g. my-project.umd.edu) are possible but require additional steps. If you have a custom URL in mind for your existing Wordpress instance, please contact eng-webmaster@umd.edu to verify the name is available and to have it mapped to your Wordpress blog. 
More details on how to use the campus wordpress hosting and sites can be found here.
* When you request a blog site, it will be tied to your UMD account and you will be notified to renew the site's hosting from time to time. If you are not certain if the site will be passed on to different admins, please add me (pwang24) as the site owner so I can renew it for you.