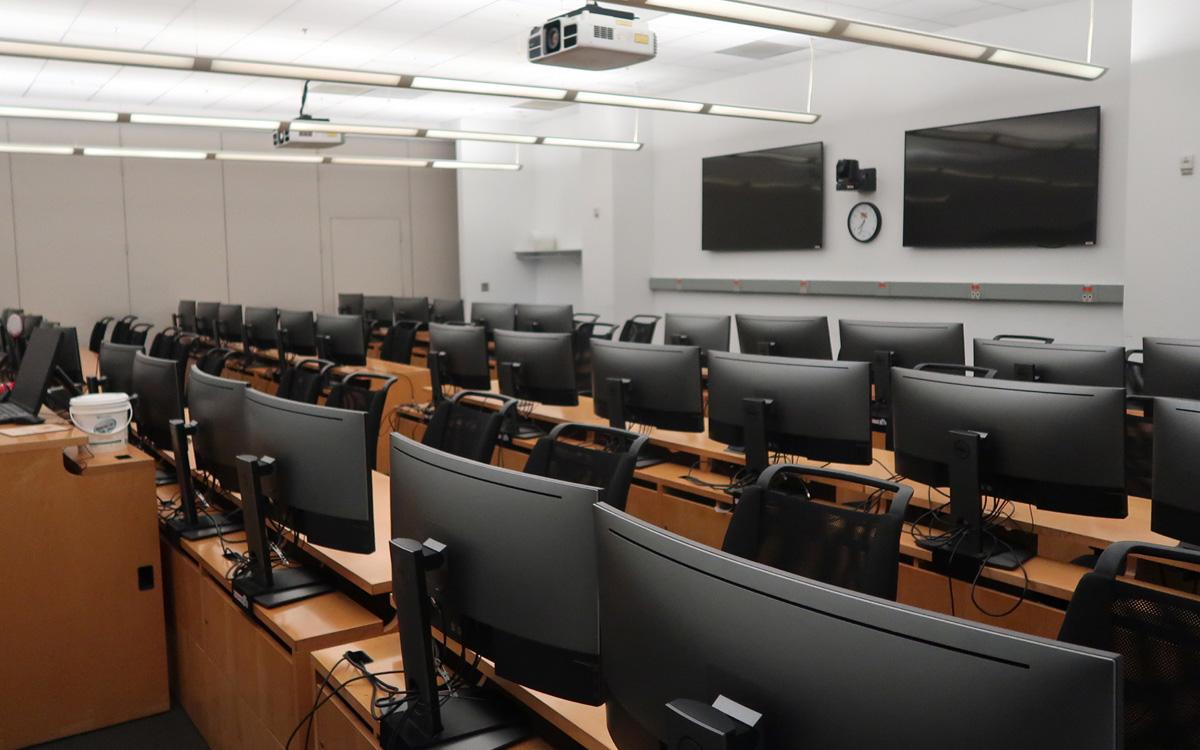 EIT provides and maintains 14 computer labs in 6 different buildings, including A.V. Williams, Chemical Engineering, Engineering Lab Building, Kim Building, J.M Patterson and Martin Hall. Most labs are open to all faculty, students and staff with a valid UM ID; however, some labs are reserved for class use only or restricted to students of a particular major. All computer labs offer both Ethernet and wireless Internet access.
Please observe the following rules when using an Engineering computer lab:
Food and drink is not permitted.
When occupied by classes, do not enter lab.
Do not prop doors open. Computer lab doors are equipped with an alarm system that will alert the police whenever doors are propped open.
In case of fire or fire drills, evacuate the building immediately. You may return to the lab as soon as the alarm stops.
LEFT-CLICK on the "Safely Remove Hardware" icon to remove a USB drive. When removing a USB drive from the Engineering computer labs you must left-click on the "Safely Remove Hardware" icon instead of right-clicking. This is important to do so that you don't lose any files you might have saved to your drive.
To print, you must have a Terrapin Express account with sufficient funds. See our Printing in Computer labs page for more details.
For help, go to our Computer Labs page and locate the Technical Contact listed for the lab you are in.
For UNIX help, contact OIT at 301-405-1500.
Software Available in All Engineering Computer Labs
Software
Utility

Ansys
ArcGIS
Creo Parametric
Fusion 360
Inventor Professional
Matlab
Microsoft Office
Siemens NX
Origin
SolidWorks

Chrome
Firefox
7-zip
VLC
Notepad++
WinSCP
PuTTY
Acrobat Reader DC
Calculator
MS Edge
---
Software Only Available in the following Engineering Computer Labs:
JM Patterson Fire Protection Lab (3216)
Pathfinder
Pyrosim
BehavePlus
CFAST
CONTAM
FDS-SMV
FireFamilyPlus
FlameMap
JM Patterson Keystone Labs (1215)
Kim Engineering Building (2107 & 2111)
Glenn L. Martin Hall (0310 & 0312)
COMSOL
Mathematica
Visual Studio
Glenn L. Martin Hall Civil & Environmental Lab (1156)
AutoCAD
Civil 3D
Primavera P6
Revit
Xpress IVE
---
Virtual Computer Lab Software
Most computer lab programs are also available in the Virtual Computer Lab (VCL), which hosts applications online so that you can access them from any computer without having to download.
See our Virtual Computer Lab Software List for a list of software included in the VCL.
Lab Software Request
Faculty Only: If the software you require is not listed above, you may fill out our Lab Software Request form