At Northrop Grumman Day, Students Pitch the Future of Networked Computing
May 3, 2023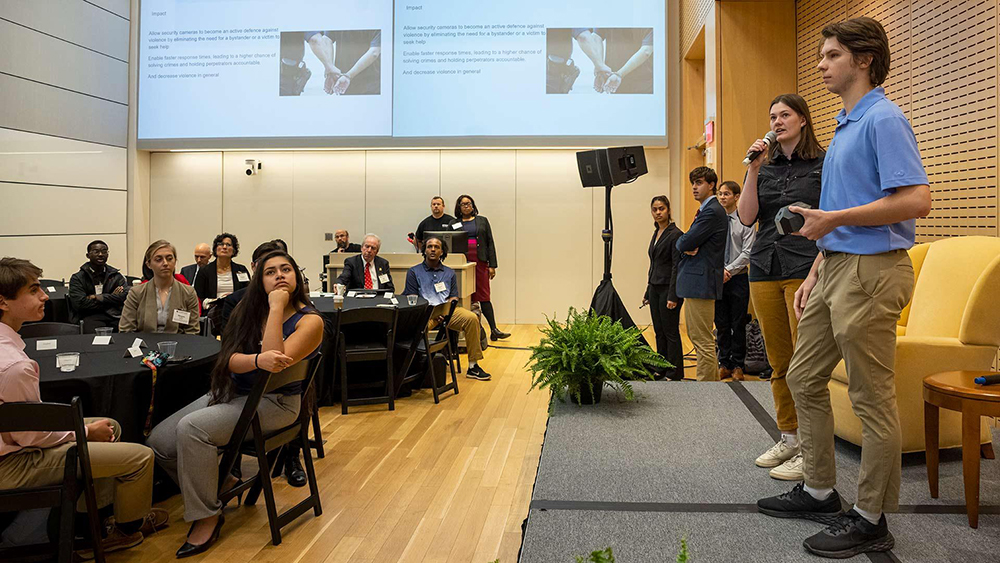 A violence-detection system took the top prize in yesterday's Northrop Grumman Student Challenge, an Internet of Things (IoT) hackathon.
Developed by information science major William Byrne, computer science students Ethan Huegler and William Meagher, and Zoe Poppert, an immersive media design major, the team took home bragging rights—and $2,500—for its Guardian smart system. It was one of three finalist teams selected from 11 entries.
The competition was part of Northrop Grumman Day, an all-day event for executives with the aerospace and defense company to connect with University of Maryland leaders, students, and faculty. It highlights the university's close partnership with Northrop Grumman as well as the company's investment in fostering talent and technology to meet industry needs.
"It's not every day you have such a leader of the international defense community and leader of such a corporation come to College Park," university President Darryll J. Pines said during CEO Kathy Warden's meet-and-greet with students. "Northrop Grumman is one of our most strategic partners across campus."
The Student Challenge was open to Terp undergraduate teams of two to four students from any major, who were challenged to create a proposal and prototype for a novel IoT device—hardware that connects to the Internet—using a provided computer board. An increasing number of consumer electronics, from smart watches to home security systems to medical testing devices, are part of the IoT. With guidance and mentorship from Northrop Grumman engineers, the teams worked over just three weeks to build their system.
The Guardian combines a camera with machine learning to alert remote users in real time to perceived violence. "Similar home security systems have proven successful, but we found nothing out there that's implementing a model looking for violence in a space like a campus," Poppert said.
As for commercial viability of the system, Meagher called it "extreme," noting the global security camera market in 2021 was $31.88 billion.
The second prize and $1,500 award went to SmartSort, created by mechanical engineering and computer science junior Urjo Nahid and mechanical engineering and robotics junior Billy Rust. While automated sorting and storage are already available in industrial settings, the team wanted to offer an option for homes and businesses. The desk-sized prototype was built with a camera to label and detect the item to sort, and a motorized spool and track, mechanical arm, and small bins to sort and retrieve items.
The third-place team of computer science majors Andrew Bumgardner, Matt Coley, Asher Weiman, and Quinn Carmack (a double major in mathematics) won $1,000. Its device, called Pair, consists of a website and Python programming library that users can install on any system, such as a home's sprinkler system, to push sensor data online.
Before the Student Challenge event in A. James Clark Hall, Pines moderated a question-and-answer session with Warden and students. When asked about plans for growing the workforce, she noted the importance of continuing education and on-the-job training and highlighted the company's mentoring program. "I believe strongly that all of us are on a learning journey, forever," she said.
As for students beginning their career journey? Warden stressed the importance of personal relationships and of pushing out of one's comfort zone. "Experiment. Take a little risk," she said.