Clark School's Advanced Distance Learning Technologies Featured in Magazine
January 23, 2013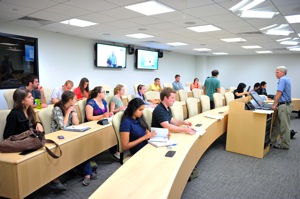 The Clark School's newly renovated Arnold E. Seigel Learning Center and the advanced distance learning technologies it offers have been featured in HigherEd TechDecisions, a magazine focusing on audio visual integration technologies for higher education applications.
The article notes that the University of Maryland has been using distance technologies for over 25 years, and currently offers an impressive distance learning setup that includes six studio classrooms outfitted with high-definition cameras, videoconferencing, LCD displays, lecture capture, and webcasting capabilities. The author also points out that live recording of lectures is what sets the University of Maryland's distance learning program apart from others.
Marty Ronning, assistant director of Distance Education and Technology Services (DETS) at the University of Maryland, is quoted in the article on the fully interactive experience students receive remotely via the distance learning technology, which allows the faculty instructor to see and talk directly with students who are connected to the class.
View full text of the news story
The Clark School is a leader in online and distance learning technologies. Learn more.