ECE Research Review Day, Oct.9
September 10, 2009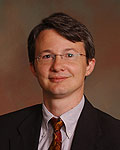 The Clark School's Department of Electrical and Computer Engineering (ECE) invites representatives from corporate, government, academic, and non-profit organizations to attend a special research showcase event highlighting the latest technology innovations that will shape our future.
ECE Research Review Day will be held on the University of Maryland's College Park campus on Friday, October 9, 2009, from 8:30 a.m. – 5:30 p.m. in the Jeong H. Kim Engineering Building. The theme of the event will be: "The Spirit of Innovation: Responding to the Technology Needs of the State, the Nation, and the Global Community."
In recent appearances, President Barack Obama has underscored the importance of technological innovation in moving America forward. To reflect this theme, the Keynote Speaker for ECE Research Review Day will be Dr. Steve Fetter, White House Office of Science and Technology Policy.
Research Review Day guests can learn more about ECE research advancements in key areas impacting the global community: Communications and Networks; Energy and Sustainability; Robotics and Automation; Biomedical Technology; Security; and Advanced Information Systems. The morning will begin with talks, followed by poster sessions, and an afternoon Faculty Ventures Fair, showcasing technology with the most promising commercial potential. A complete agenda can be found on the ECE Research Review Day website, where guests can register online.
Steve Fetter is assistant director at-large at the Office of Science and Technology Policy in the Executive Office of the President. He is on leave from the University of Maryland's School of Public Policy, where he has been a professor since 1988, serving as dean from 2005 to 2009. His interests include nuclear arms control and nonproliferation, nuclear energy and releases of radiation, and climate change and carbon-free energy supply.
Fetter has served as president of the Association of Professional Schools of International Affairs. He is a member of the Intelligence Science Board and the Council on Foreign Relations; the board of directors of the Sustainable Energy Institute and the Arms Control Association; and the board of editors of Science and Global Security and Science Progress. He is a fellow of the American Physical Society, a recipient of its Joseph A. Burton Forum Award, and served on its Panel on Public Affairs. In 1993-94 Fetter served as special assistant to the Assistant Secretary of Defense for International Security Policy and received the Secretary of Defense Medal for Outstanding Public Service. He has worked in the State Department as an American Institute of Physics fellow and a Council on Foreign Relations international affairs fellow. He received a Ph.D. in energy and resources from the University of California, Berkeley, in 1985 and a S.B. in physics from MIT in 1981.
Advance registration for the event is required -- please register online by October 2 at http://www.ece.umd.edu/rrd.
For more information, please contact Jess Molina at jmolina2@umd.edu or 301-405-4471, or Ted Knight at teknight@umd.edu or 301-405-3596.