Kim Receives Lifetime Achievement Award
February 24, 2009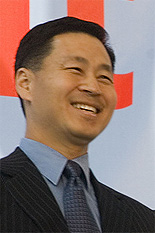 The Chinese Institute of Engineers has selected Jeong Kim (Ph.D. '91, reliability engineering), president of Alcatel-Lucent Bell Labs, as the recipient of its 2009 Distinguished Lifetime Achievement Award.
The award recognizes Asian-American engineering professionals with a record of significant personal achievements, contributions to academia, public service and industry. Previous honorees have included Nobel Prize winners, leading professors and corporate leaders.
Kim expressed the hope that he "would join past recipients as a beacon for the aspirations of young Asians inclined to pursue engineering and provide the direction that will help enable them to achieve success in their chosen professions."
As president of Bell Labs, Kim oversees a world-renowned research institution that is the innovation engine for Alcatel-Lucent and the source for groundbreaking solutions that shape the communications industry.
The Clark School's Jeong H. Kim Engineering Building is named after Kim, who is a professor of the practice at the Clark School.
Kim's career spans industry, academia and military service. Prior to his current position, he was president of Lucent Technologies' Optical Group, and chairman and CEO of a high-tech communications equipment company that he founded and eventually sold to Lucent Technologies. Earlier in his career, Kim held technical and leadership roles in the fields of computers, satellite systems and data communications and was a nuclear submarine officer in the U.S. Navy.
Kim is a member of the National Academies of Engineering.