Clark School Gains Voice on National Stage
February 12, 2014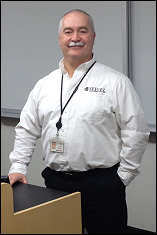 Marty Ronning, Assistant Director for Distance Education Technology and Services (DETS), was elected to the Executive Board of the Continuing Professional Development Division (CPD) of the American Society for Engineering Education. This leadership position will bring increased visibility to the Clark School and the Seigel Learning Center as a premier facility for the development of educational content.

The mission of the CPD Division is to foster the development, delivery, and improvement of continuing education in all areas which pertain to allied branches of science, technology, engineering and math; CPD provides advocacy for and Leadership in lifelong learning; and creates opportunities for exchange of information and expertise among providers and consumers of educational programs.

This new role brings many opportunities to help shape this national organization through service. Mr. Ronning hopes to further focus attention on the challenges of keeping the Engineering work force up to date in the latest skills and technologies.