Engineering School Will Open Graduate Online-Learning Center
February 9, 2012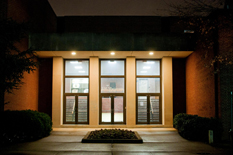 By Teddy Amenabar, The Diamondback
Published Wednesday, February 8, 2012
Beginning next fall, the university will be able to educate dozens more students across the state under one roof with the creation of a new online learning hub.
The engineering school's Distance Education program — which has offered video teleconferencing technology connecting undergraduate and graduate students to the classroom for decades — will soon have a new home on the campus as the Seigel Learning Center in J.M. Patterson, gaining the capability to expand online courses to even more students.
"This could go a long way in satisfying the University System of Maryland mandate that all the campuses increase their enrollment."
Marty Ronning, the assistant director of Distance Education Technology and Services, said the center will help the university serve more students statewide, despite the fact that the university possesses limited funds to hire more faculty and a classroom deficit of 70,000-square-feet on the campus.
Read Full Article in Diamondback Online