What's New in EIT for Fall 2010?
September 7, 2010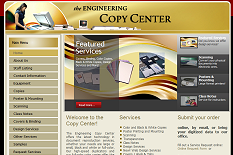 CLARK IS GOING DRUPAL!
Keep an eye out for a newly redesigned Clark School website this year, possibly even during the Fall semester.
Also, the Engineering Copy Center has kick-started the process and is the first of the engineering websites to be redesigned in Drupal. Visit www.copycenter.umd.edu.
NEW WEB SERVICE!
EIT is offering a new web design services through the Copy Center for faculty and labs - for a fee. Bari Mitchell will be the webmaster. Contact Naji Hammad for more information.