Gabrielle Barnhart selected for President's Distinguished Service Award
September 25, 2014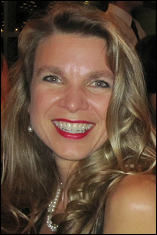 EIT is proud to announce that Administrative Assistant, Ms. Gabrielle Barnhart, was selected as one of this year's winners of the President's Distinguished Service Award. This prestigious award, issued by the University President's Office, recognizes exceptional performance, leadership, and service by members of the University staff. Recipients of this award have a record of exemplary performance and distinctive contributions to the University of Maryland and the campus community.
This year's winners will be recognized at the 31st Annual Faculty and Staff Convocation on Tuesday, October 7, 2014, at 3:00 p.m. in the Memorial Chapel. A reception will follow the ceremony. All members of the University of Maryland family are invited to attend the Convocation and reception to inaugurate the new academic year and to recognize our colleagues and friends for their superior contributions.
Please join us in congratulating Ms. Barnhart at gabby@umd.edu for her many years of exemplary service to DETS, EIT and the Clark School.