DETS Staff Member Celebrates 30 Years of Service
November 1, 2011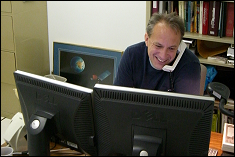 DETS Chief Engineer, Robert "Bob" Pelletier, will be celebrating 30 years of service with the campus on November 9, 2011. Bob came to UMD from Catonsville Community College when he accepted the position of Assistant Chief Engineer with the newly founded Instructional Television System (ITV). At that time, under the direction of Dr. Arnold Seigel, ITV began its mission of providing University of Maryland engineering courses, via microwave, to government and industry locations throughout the Baltimore-Washington metropolitan area.
Over the next 30 years, many changes occurred both technologically and organizationally. Black and white, 2 channel, televised courses developed into the Internet based, globally accessible courses we see today. ITV expanded its mission within the Clark School, becoming Distance Education Technology and Services in 2004. Program offerings were expanded to meet the needs of today's workforce.
Throughout this time, Bob could be spotted climbing microwave towers, working behind equipment racks or researching and designing new studios, in addition to working with faculty, staff, and students. All of us at DETS would like to congratulate Bob on reaching this milestone and we look forward to many more years of exceptional service and dedication to the university.