DETS Gains National Visibility through Awards and Service
February 15, 2012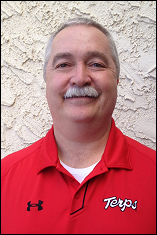 Marty Ronning, Assistant Director for Distance Education Technology and Services (DETS), received the CIEC Best Session Award for his contribution to the session entitled "Comparing Tools for On-Line and Blended Programs". The session was presented at the February 2011 CIEC conference held in San Antonio Texas. Held annually, the Conference for Industry and Education Collaboration (CIEC), sponsored by the American Society for Engineering Education (ASEE), is dedicated to all disciplines of engineering education.
Mr. Ronning was joined by a group of prominent educators consisting of moderator Ellen Elliot, Johns Hopkins University and presenters; Scott Mahler, University of Michigan, George Wright, Georgia Tech, and Candace House, University of Southern California. During the session each presenter spoke about the asynchronous and synchronous tools that are used in their respective on-line, blended, and face-to-face courses. Mr. Ronning discussed the use of current DETS technologies such as Media Site which is a Rich Media format used to capture courses for internet distribution, the Radvision Scopia web conference platform used for synchronous discussion groups and professor interaction, and the Clark School's Virtual Computer Lab (VCL). The lab is used by both on and off-campus students who need the school's computational resources but may not have direct access to the campus labs.
The presenters were recognized at an awards ceremony held this February during the 2012 annual CIEC conference in Orlando, Florida. This award confirms that the Clark School of Engineering is a national leader in distance education technologies and is held in high regard by the nation's leading universities.
Mr. Ronning has also been appointed to lead an ASEE/CIEC special interest group interested in the technical issues associated with the development and delivery of distributed/distance learning programs.
Please join us in congratulating Mr. Ronning on this outstanding achievement and his willingness to assume additional responsibilities on the Clark School's behalf.